Home
Authors
Posts by π. Χρυσόστομος Manalu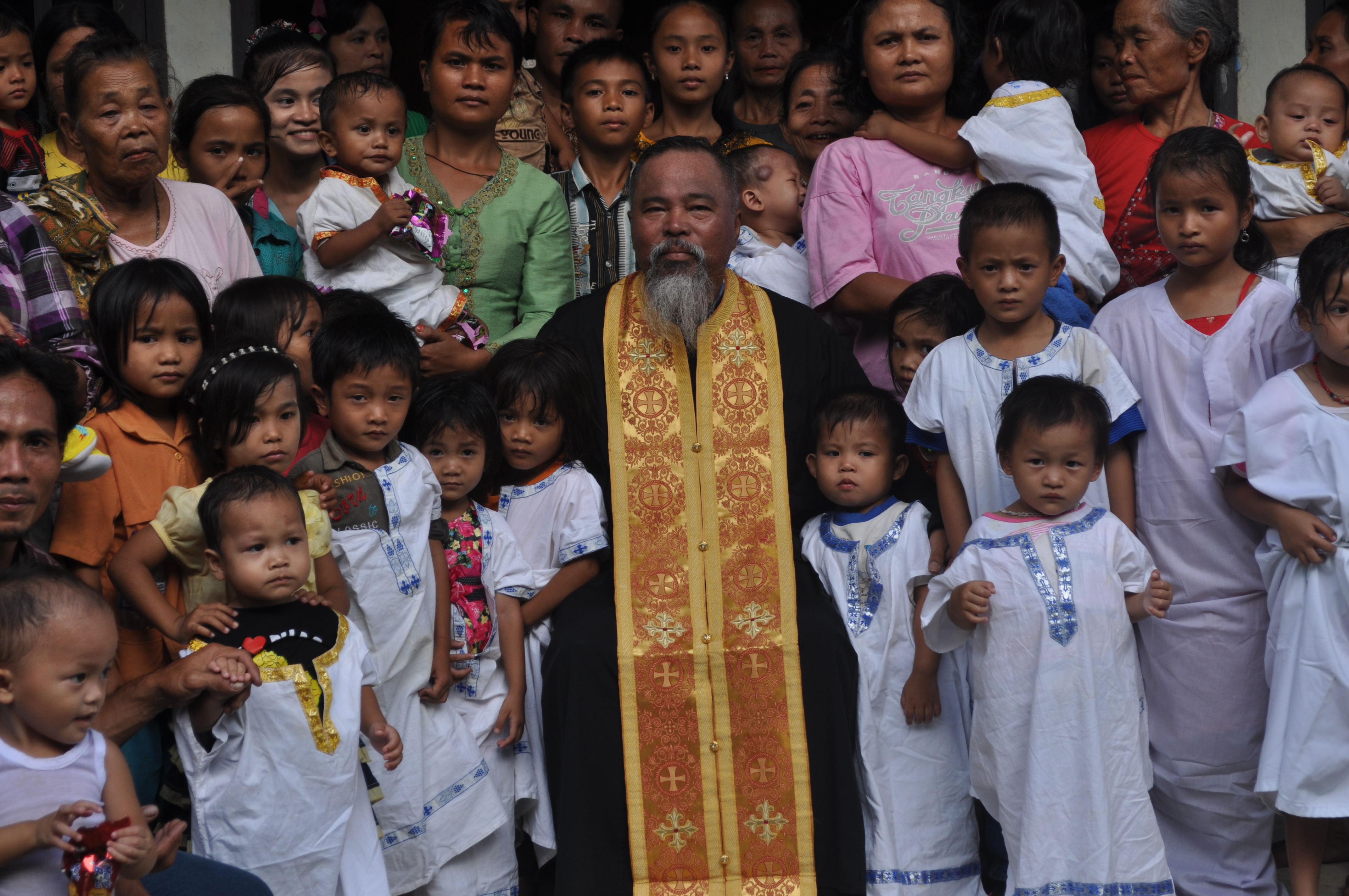 Ο π. Χρυσόστομος Manalu γεννήθηκε στη Σουμάτρα της Ινδονησίας σε προτεσταντική οικογένεια. Έγινε Ορθόδοξος από τον π. Δανιήλ Byantoro και το 1994 ήρθε στην Ελλάδα για μεταπτυχιακές σπουδές στη Θεολογία. Τότε συνδέθηκε ως λαϊκός με την Αδελφότητά μας και χειροτονήθηκε πρεσβύτερος στην Ιερά Μητρόπολη Άρτης. Επέστρεψε στην Ινδονησία το 2002, ίδρυσε την Ορθόδοξη Ιεραποστολήστη Βόρεια Σουμάτρα και διακονεί ως Αρχιερατικός Επίτροπος της Ινδονησίας υπό τη Μητρόπολη Σιγγαπούρης.
Dear friends of Mission,Christ is Risen! With God's help we are in good health. I would like to update you on the work of our Orthodox Mission here in distant Indonesia. From February 25, 2018 to March 1, 2019, I was...
Dear Friends of the Mission, This year we spent the holy Christmas days with devout reverence in all our parish communities. God permitting, next year we will be gathered all together in a large hall room, where we will celebrate with representatives from each...
Fr. Savvas will be the first Orthodox priest permanently serving parishes in the land of East Timor...
There is a young man from Timor who came near me in Medan for studies. Meanwhile, I performed his wedding and I ordained him to the priesthood. Now he is a deacon and his wife is pregnant. She is due to give birth in July...
It is a few years since we started accommodating in our home 15 children, all of whom go to school and need money for their fares, tuition fees and food. This is why we ask for your prayers so that these children can continue their studies uninterruptedly this year...
We have been thinking of writing Orthodox books for years. These books are usually requested by people who want to learn more about Orthodoxy. Until now we have managed to get very few books printed in Indonesian...
Representatives from all our parish communities came to the city of Medan. This gave us a great pleasure because we had the opportunity to get together again. Our faithful were greatly strengthened and given guidance and direction as regards the continuation of the Mission in this region...
One of our students named Savvas Marcelino, who comes from the independent country of East Timor, will finish his studies at our St. Paul Theological School and now he is ready to return with his wife to Dili, the capital city of East Timor. Any possible help will be greatly appreciated so that the Orthodox faith can reach this new country...
Things here in Indonesia are not good, because there has been an upsurge of religious fanaticism on the part of bigoted Muslims, who want to apply sharia throughout Indonesia. Most people do not want them, because here we have many races, tribes and religions. These Muslims have made a lot of attacks, burned churches and dropped bombs on Christian property...
It is a great blessing for us that our Orthodox Church in Indonesia has acquired another laborer of Christ. Fr. Chariton is native to this island and is a graduate of our School of Theology. Also, his presbytera is a graduate of our School and holds a teaching degree. They have got a daughter named Eugenia. Fr. Chariton will serve his ministry in Nias, because there we have three parish communities...