On Sunday, June 22, 2014, HE the Metropolitan Makarios of Kenya consecrated a new church, dedicated to Apostle Peter, according to the will of American donors.
As you know, in this region mostly inhabited by Africans of the Turkana tribe, the Orthodox Church of Kenya has undertaken a huge missionary and evangelical work for years. His Eminence Makarios led this campaign of love and outreach, traveling from as long away as two days far to reach there, where the big lake Turkana lies, bordering with Somalia and Ethiopia. He performed the first group baptisms in the big lake and then he appointed as catechists some graduates of the Patriarchal School, who then were ordained and today they serve in various parts of the region. The four priests work very successfully, since they are pious, faithful, zealous, humble and enthusiastic; thus they were able during this period to make such a wonderful work; thus the parishes increased and the faithful multiplied all over Turkana region.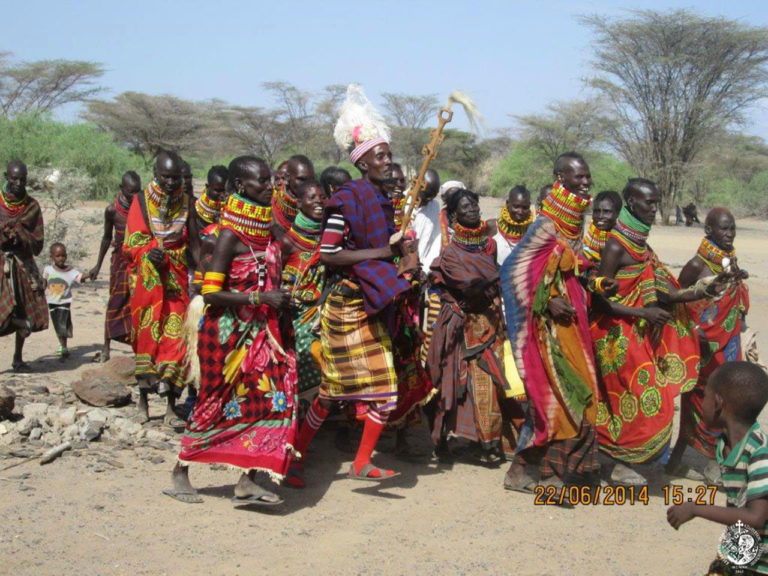 After the Sunday consecration, HE Makarios laid the cornerstone for the third church, dedicated to St. Nicholas. There operate primary schools and kindergartens and free food is provided to the children. Furtermore, there have been drilling projects and clean water is now provided to the inhabitants of the region. The Orthodox Christian Mission Center has decisively and exclusively undertook the development of the region. Groups of young adults and priests come regularly to catechize and help in the work of evangelizing the tribe.
All the priests of the region as well as others from America and Nairobi participated in the consecration. It was a special day for Turkana, since the church was built in the midst of nowhere, but there are many who have been exhaustively catechized and converted to Orthodoxy.
The biggest problem plaguing this desert area is the constant drought. When His Eminence first visited the region to perform the first group baptisms, he wasn't able to do so, because the lakes and rivers had dried out. In fact, once the people were in despair because of the aridity, he blessed the water and read special prayers. Then, God rained so much water that the lakes and rivers overflew and people asked the bishop to tell the God he believed in and had prayed to, Who listened to their prayers and did the miracle, to stop, because the place had gone flooded. "We asked for water but that's too much", they told. Blessed be the name of God!
Conclusively, this recent visit proved that our priests of the Turkana tribe work with exemplary zeal, deep faith and absolute devotion. The work of the Lord and Orthodoxy is promoted and the primitive tribe of Turkana is pronounced with the good news and a great joy.