Home
Authors
Posts by Μητροπολίτης Άκκρας Νάρκισσος
Μητροπολίτης Άκκρας Νάρκισσος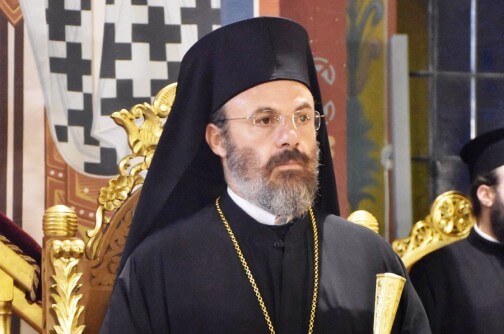 His Eminence bishop Narkissos of Accra was born in Jordan in 1968. He has been serving the Patriarchate of Alexandria since 2009, while in 2013 he was ordained the bishop of Nubia and in 2015 he was moved to Ghana.
Some people argue that Orthodoxy cannot offer solutions to building a proper society, thinking that it is simply a religion, which is wrong. Orthodoxy is a communication of persons relying on the real fact of man's search from God Himself and not on man's attempt to create a god. A God who approaches us to heal our passions, without us attributing human weaknesses to Him...
By the Grace of God and the blessings of His Beatitude Theodoros II, Pope and Patriarch of Alexandria and All Africa, the annual Clergy Seminar was held once again at the Holy Metropolis of Accra. Our priests from the countries included in our Metropolis,...
The Orthodox Mission in Africa always stands at the forefront. The second-in-hierarchy Patriarchate of Alexandria, wisely led by its steersman, Pope and Patriarch Theodore II, cares primarily for the spiritual ministration but also at the same time for the relief of the poor and the ailing.
For the first time in the two-thousand-year presence of the Apostolic Throne of the Alexandrian Church, the country of Ivory Coast was visited by His Beatitude Theodore II, Pope and Patriarch, Venerable Shepherd and Father of all the Orthodox Christians throughout Africa. Frantic preparations were made for...
Our Orthodox Mission believes that whoever invests in youth, they belong in the future and the future belongs to them and we, the Orthodox people, want to be active in the future, in order to shape it and instill in it our Orthodox Christian values...
They only have a straw hut used as a church building when the Divine Liturgy is performed, but whenever there is heavy rainfall, it crumbles and has to be made again from the beginning...
The building complex is ready, but we need to drill a borehole so that students can have access to clean and safe drinking water...
Over 200 Orthodox youth between the ages of 12 and 22 gathered at the St. Peter's College, Larteh, in a ten-day Youth Camp organised by the Orthodox Church, Ghana...
The presence of Father Alexander and his presbytera Elizabeth was a great living example and at the same time a sermon on conjugal love, devotion and faith in God's will...
The most essential quality of a priest should be the spirit of sacrifice and not the spirit of inertia. This means that the priest must give himself up for Christ rather than sacrifice the Church for himself. Keep your ears open to every advice, wherever it comes from, because you can always be taught something by anybody...